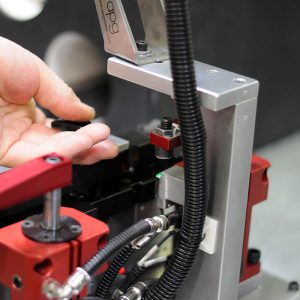 Orka Automation was founded in 2017 to meet our customers' requests for automation solutions. After many years of business, our sister company, Component Engineering was already a recognized leader in check fixtures, gages, and automated quality inspection. As a logical next step, we expanded our existing technical and industry expertise to meet growing customer requests.
To accommodate our expanding business, we built out a state-of-the-art 12,000 SF building in Wyoming, Michigan, just a few miles from Component Engineering. We assembled a team of automation experts and a network of partners to bring the best solutions to our customers, and instilled a culture of commitment to customer success.
It's simple – we're low key, capable, and consultative partners who value our customers' outcomes over orders. Solving customer problems is the best "selling" we can do. We integrate quality throughout our automation solutions, ensuring optimal results for our customers.
Our success comes from improving your results and automating better outcomes, together.
Automotive
Aerospace
Consumer Packaged Goods
Contract Furniture
Medical Technologies
Food and Beverage Processing
Food and Beverage Packaging
We are fortunate to have built strong relationships with customers in our automated inspection business at Component Engineering, then built upon that base as we grew our automation capabilities with the establishment of Orka Automation.
Our customers include:
We "seek first to understand" before we recommend a technology solution. We leverage a six-step approach to ensure we have a collective understanding of your goals, standards, and production processes. This enables us to understand the current process vs. the required outcomes, and keep our collective team focused on "True North" – as well as respond to new learnings and opportunities as the project progresses.
Component Engineering is focused on holistic quality solutions, technology equipment, and leading our industry into the next generation of quality assurance solutions.
Orka Automation takes a total solution approach to automation, focusing on the entire process, from supplier to finished product. We believe that by improving your overall manufacturing processes, customers can achieve better results.
For meticulous measurements where both speed and accuracy are critical, trust TruPosition probes and components. We ensure 100% quality assurance because we understand that failure is not an option.